| | | | |
| --- | --- | --- | --- |
| Posted: 11:05am 20 May 2020 | Copy link to clipboard | Print this post | |

Morning Forum.

On a MicroMite Mk2 28 pin 170, has anyone had any joy getting the SPIPort routine in the Embedded routines in the firmware pack working? (can't use the normal SPI port).

I have something very odd happening whereby I am getting the CS pin oscillating even when I have stopped the program and am at the > prompt.

Here is my sub to talk to the chip:



Sub MAX7221(MAX7221Dat As Integer)
Local Integer j
Pin(CS)=0 'CS Lo
j=SPIPort(2,DAT,CLK,MAX7221Dat,0,0,16)' 16 bits sent at 1MHz+
Pin(CS)=1 'CS Hi
End Sub



If I REM the line starting j= then I see the toggle from the CS pin, but if I un-REM it, I get the oscillation, even when my prog is not running. It starts up, makes a single call to the above Sub then ENDs, but that CS pin keeps waggling... at the > prompt(!).




HWInit:
Pin(CS)=1:SetPin CS,DOUT,OC' pin 14 =CS
Pin(DAT)=0:SetPin DAT,DOUT,OC ' set tx pin low then set it as an output
Pin(CLK)=0:SetPin CLK,DOUT,OC ' set clk pin low then set it as an output
SetPin 2, DIN ' dummy input pin

InitMAX7221:
MAX7221(&H0F01)' display normal (not test)
End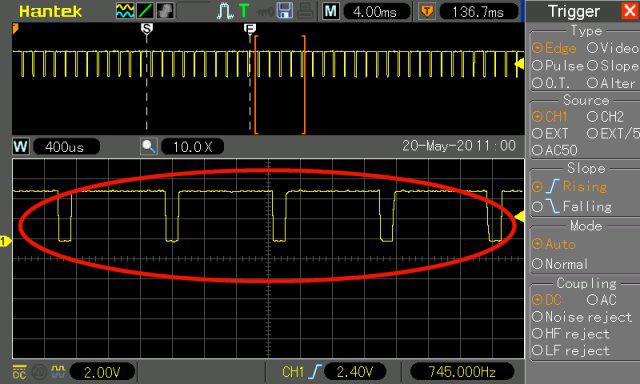 I have noticed a disparity in the SPIPort PDF, the header for the Function shows:



CFunction SPIPort(integer, integer, integer, integer) integer



which suggests four arguments passed to it, but the example shows



rd = SPIPort( rx, tx, clk, data_to_send, speed, mode, bits )



which shows seven arguments.

I used the example in my code as you can see. I tried changing the CFunction definition to include seven integers passed in but no different.

Bit stuck, any help/pointers greatly appreciated.