Solar Mike
Guru



Joined: 08/02/2015
Location: New ZealandPosts: 1060
| | | | |
| --- | --- | --- | --- |
| Posted: 10:00am 25 Aug 2023 | Copy link to clipboard | Print this post | |

Has been a while since I posted anything, too busy working on my long back log of projects, and now the bathroom has to be renovated... Recently I have been building and testing some smaller "Low" power MPPT charge controller designs, as I have quite a few small independent 12V systems to setup in the field, for controlling pumps, alarm sensors etc.
They all seem to work ok, but are really over-complex for low power 12V 8 - 20 AH batteries fitted with a 10 - 30W PV panel. The smaller lead acid 10AH gel type batteries can only accept 1 amp or so of charge current, so its pretty pointless building a lower power MPPT device for them; its only where we have a larger battery like a free car battery that someone has donated and want to hook it up to an old 80-100 watt panel that may be 31 volts output, an MPPT controller works best.

Looked at some of the EL-Cheapo small commercial controllers on offer, they are rubbish really and quite difficult to repair, as many are required its more cost effective to build your own, then I can somewhat over engineer things so it will last the next 10 years or so.

Will use this Topic to post all my info on the lower power stuff.

Design 1: Mini_PWM3, small pcb 75x82mm for a slow PWM type controller, using a Picaxe 14M2, PV charges the battery by switching 2 back to back mosfets via an isolated current to voltage driver chip, as used in SSR's. Mostly they are turned hard on, when the bulk stage moves to CV then float, they are pulsed enough to keep the battery voltage at the set points, which are set in the software. A 2nd high side mosfet is also used to supply the battery load, which maybe a small pump controller etc, this mosfet switch can be turned off to protect the battery from going completely flat if the PV or sun fails. The mosfet voltage driver chips are quite slow turning on, 1mSec perhaps a bit less, so slow PWM works best here.
Currents up to 10amps shouldn't require any additional heat sinking.

Anyway here is the schematic: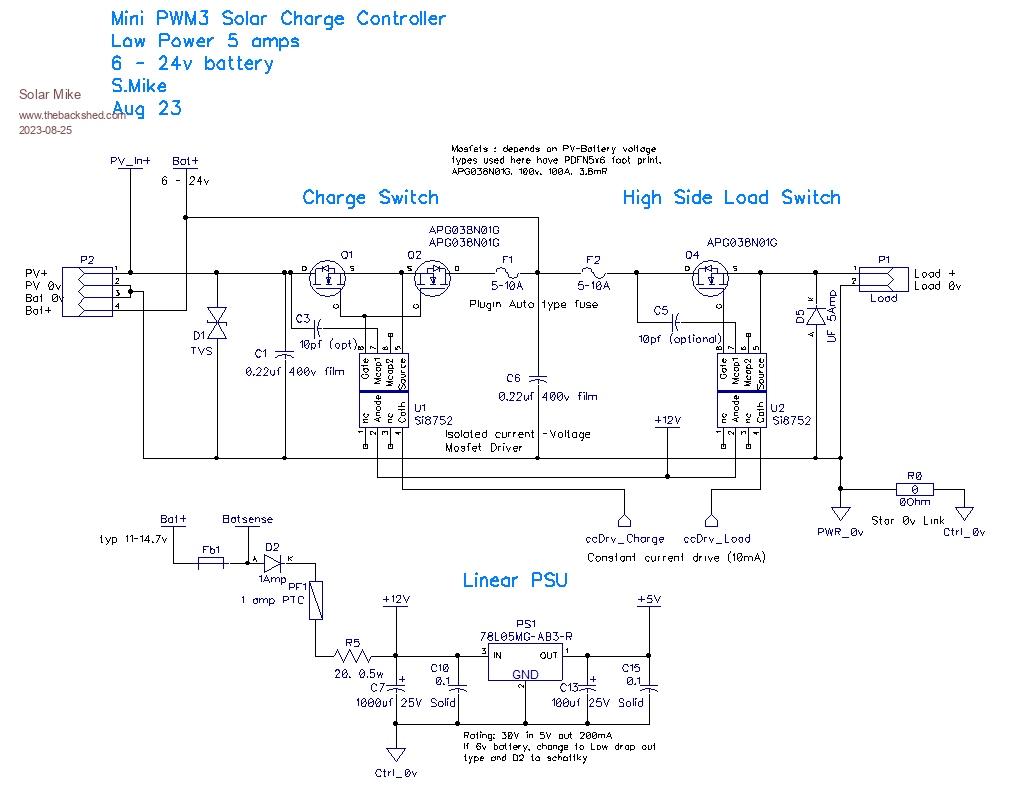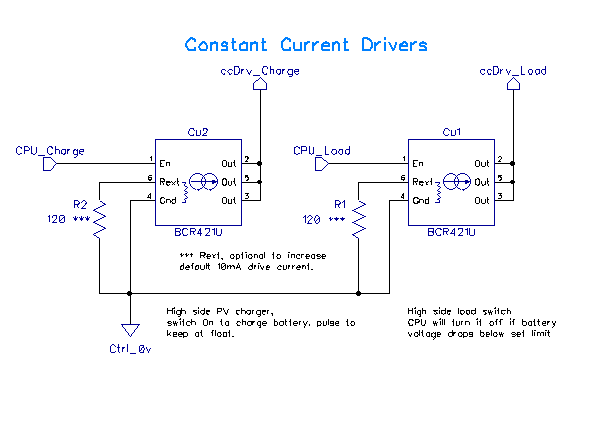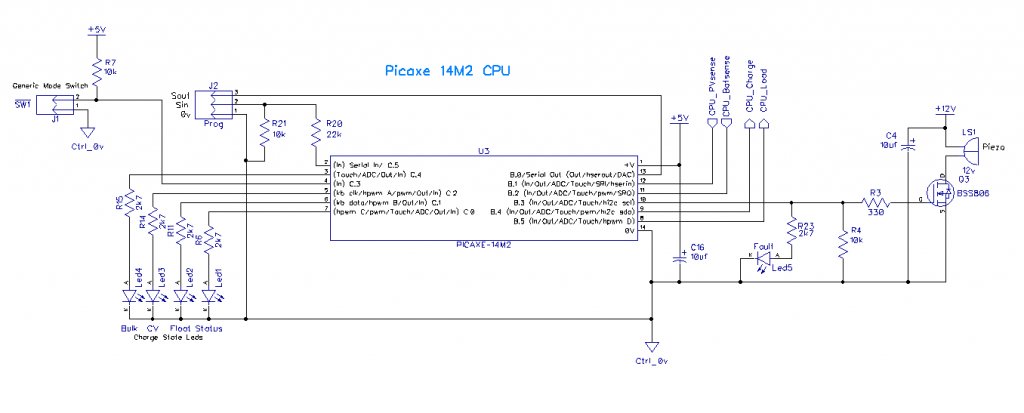 PCB, 75 x 82mm: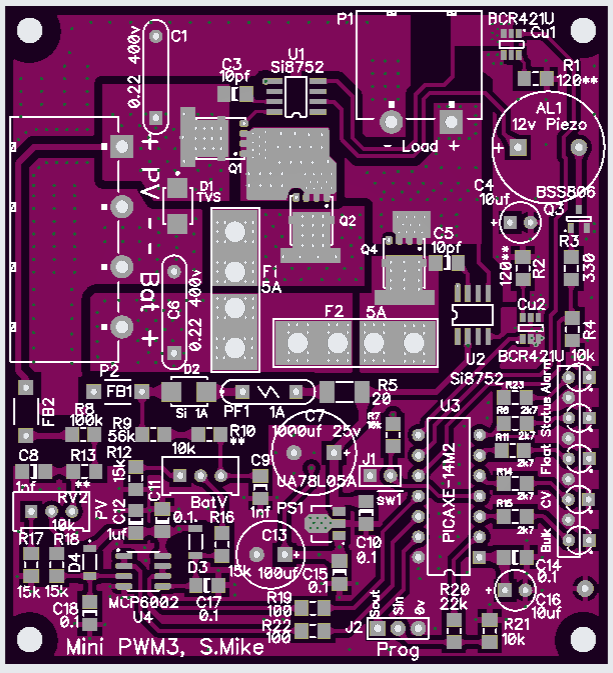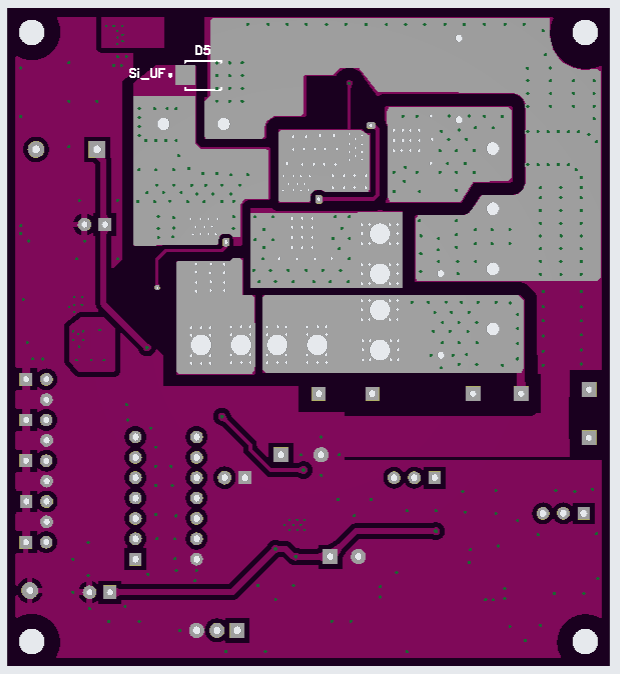 Sending the gerbers off now, will update later after testing.


Cheers
Mike
Solar Mike
Guru



Joined: 08/02/2015
Location: New ZealandPosts: 1060
| | | | |
| --- | --- | --- | --- |
| Posted: 01:16am 26 Aug 2023 | Copy link to clipboard | Print this post | |

Mini PWM3 gerbers zipped:
MiniPWM3.zip



Part of this mini series is a small pcb 100 x 70mm Battery voltage relay type SSR using 3 pairs of dual mosfets in parallel, having a very low combined on resistance. The circuit is very similar to the PWM3 mosfet switching section.

A Picaxe 08M2 used to monitor the battery voltage and turn off the loads should the battery volts get too low. With an alloy bar bolted under the mosfets, expect 50 amps would be no problem, limited to a max 24v battery, I was going to retro-fit it to some existing 12V installations supplying power to pumps.

I have the pcbs back, but haven't tested it yet, sorry no schematic, I generally don't bother unless the thing is complicated.

PCB: 100x70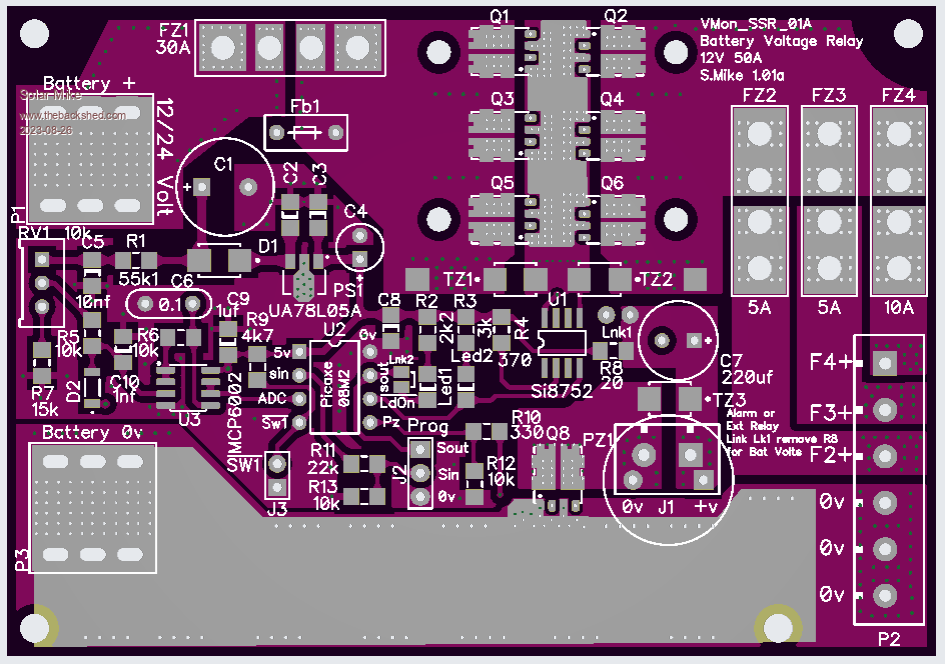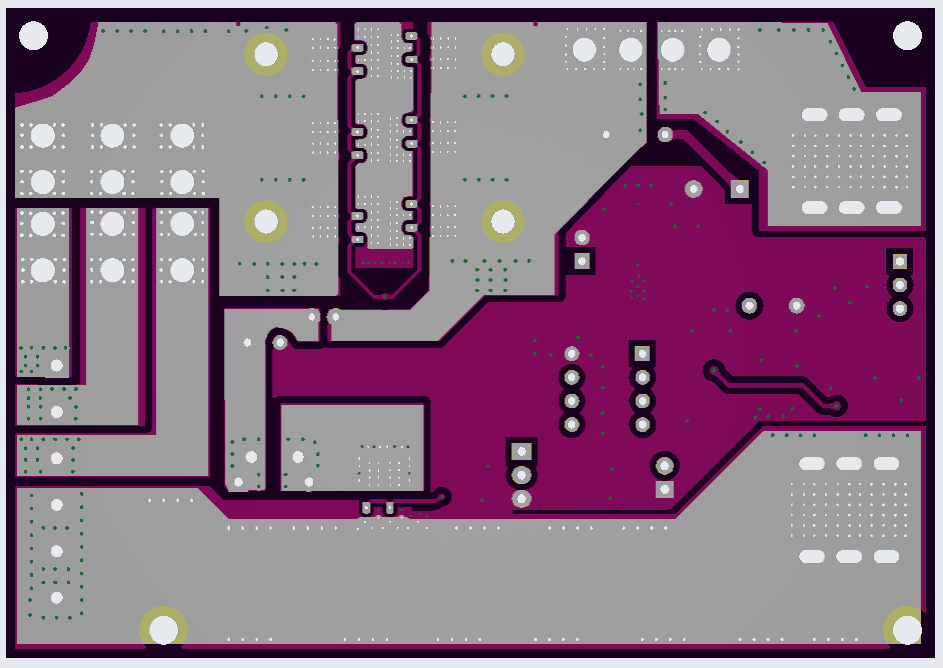 Gerbers:
VMonitor_SSR01A.zip


Cheers
Mike
Solar Mike
Guru



Joined: 08/02/2015
Location: New ZealandPosts: 1060
| | | | |
| --- | --- | --- | --- |
| Posted: 10:59am 29 Aug 2023 | Copy link to clipboard | Print this post | |

Here is the last variant of this version of Mini PWM, smaller foot print 72 x 60mm, less current capability and only a single status led to indicate what's going on. For the smaller 30W panels this will be fine. Currents above 5A will need a heatsink and allowed for by clamping an alloy bar to the lower pcb and some silpad material.

I have bag of these 30 cent dual logic drive mosfets 30V @ 80A 5.2mR from LCSC, so have used them for the charge and load switch's, they don't require high voltage drive, so have opted for the cheaper TLP3906 isolated current to voltage mosfet driver, of which I also have a bag of. CPU is the 8 pin PicAxe 08M2.

One thing you may notice is an input only pin C.3, being used as both an input and an output; achieved by program setting the pull-up silicon resistor on that pin and creating a voltage divider that drives the schmitt trigger logic buffer gate, affecting an output switch.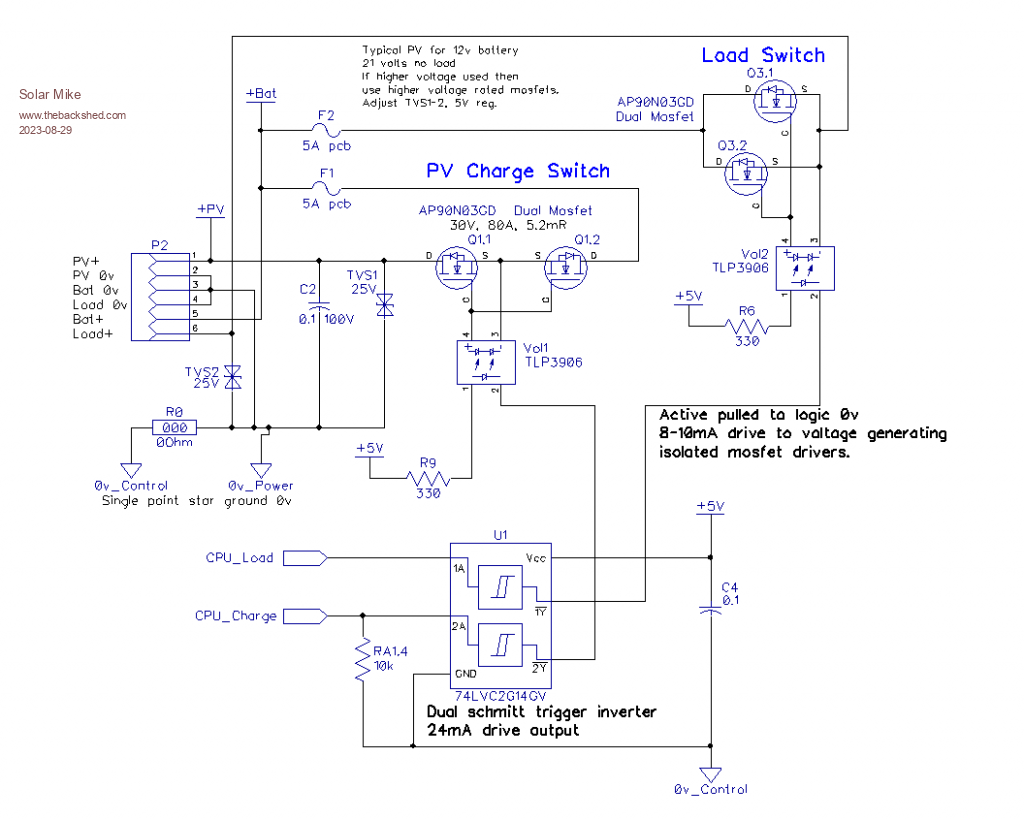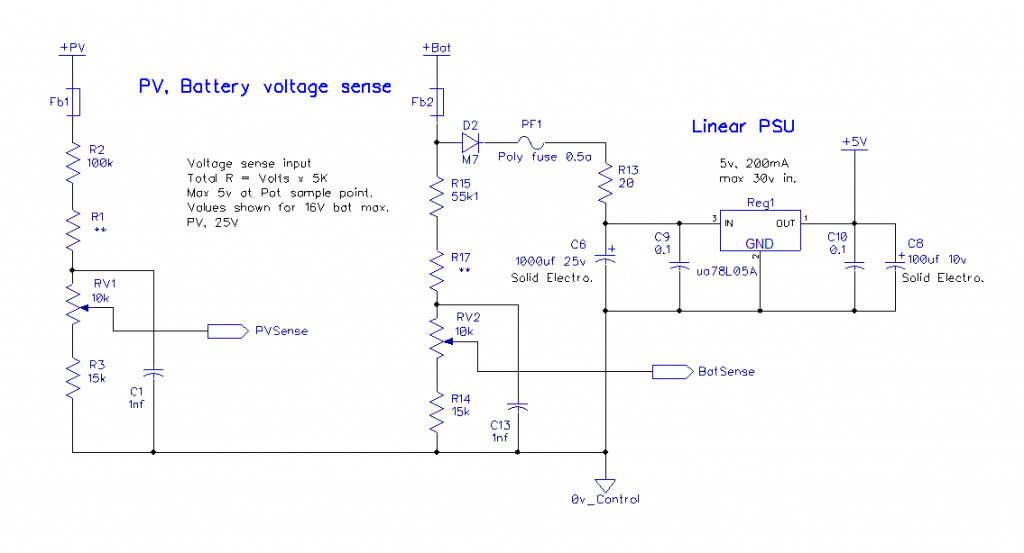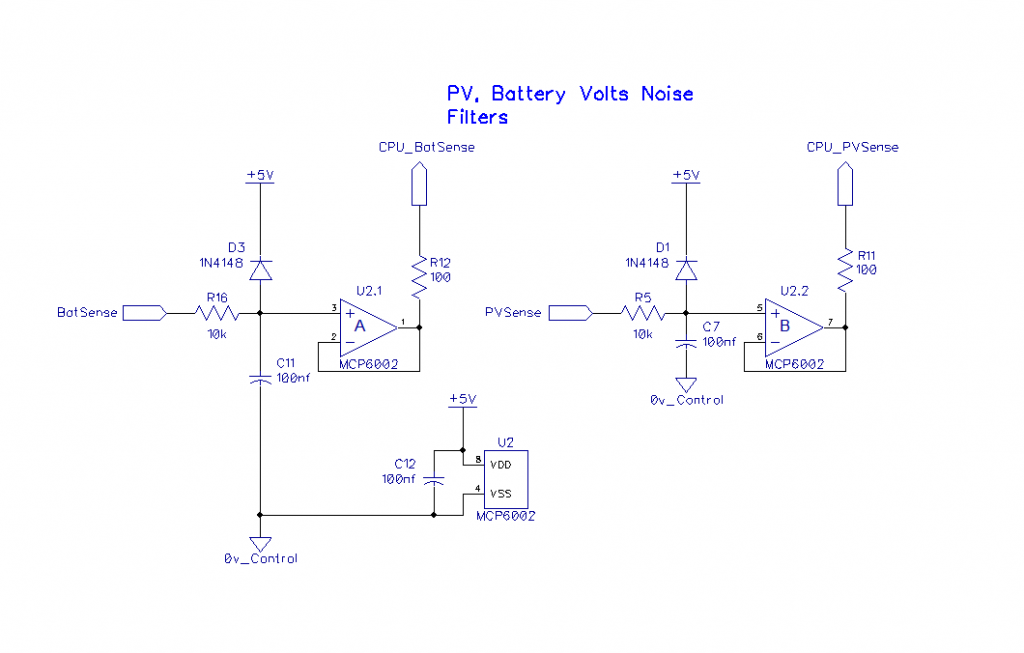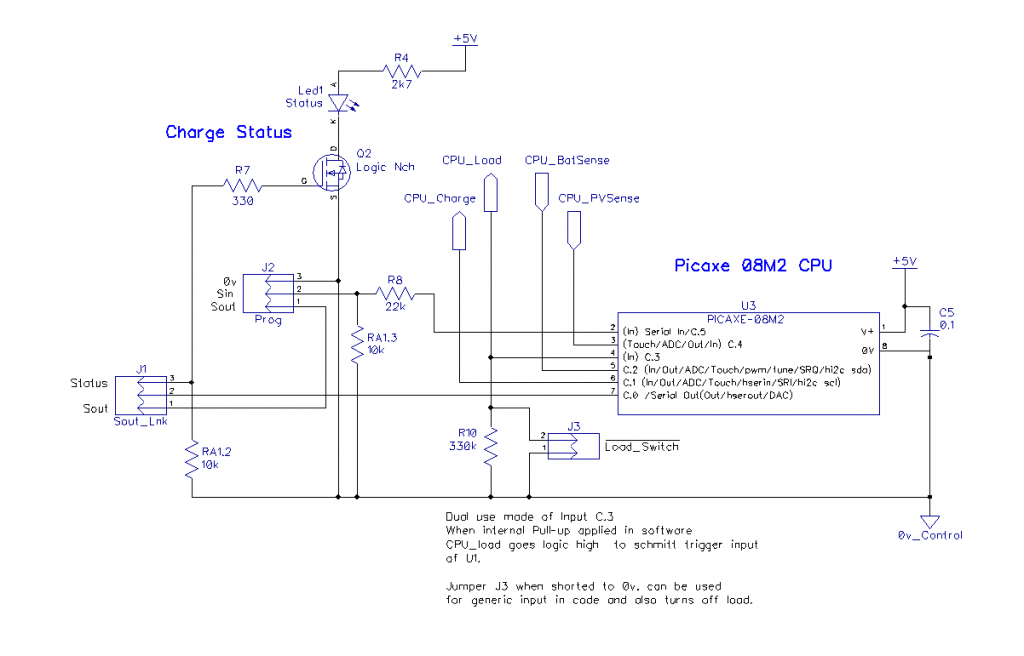 PCB 72x60mm: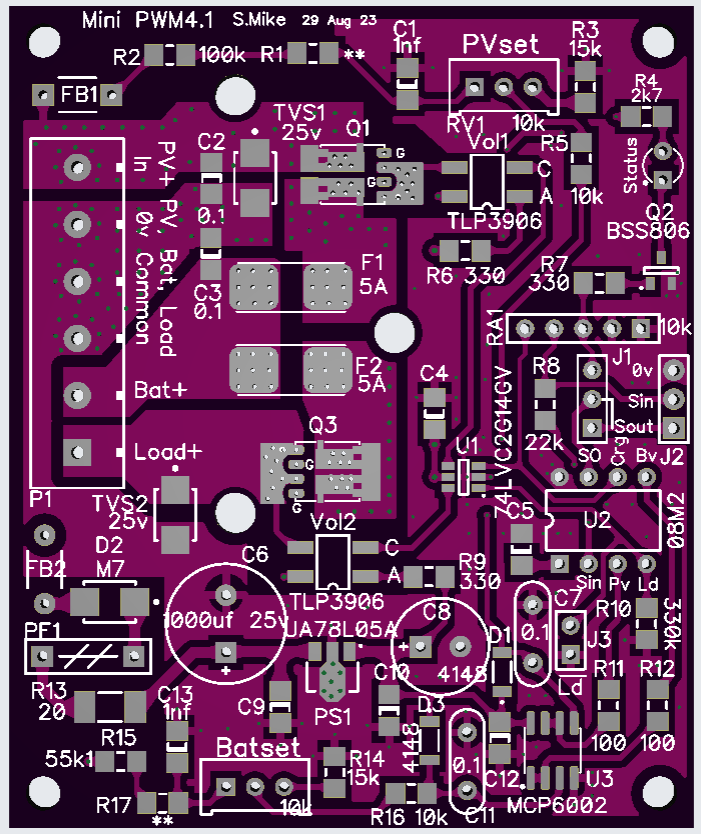 Gerbers:
MiniPWM4.zip


Cheers
Mike