poida

Guru



Joined: 02/02/2017
Location: AustraliaPosts: 1364
| | | | |
| --- | --- | --- | --- |
| Posted: 07:53pm 16 Aug 2017 | Copy link to clipboard | Print this post | |

Part 11: how does the PWM thing work? Just the basic idea..

These inverters we are making and exploring take a DC power source and convert it into
an AC output, fed into the primary winding of a transformer.

See the below circuit, taken from
Tinker's post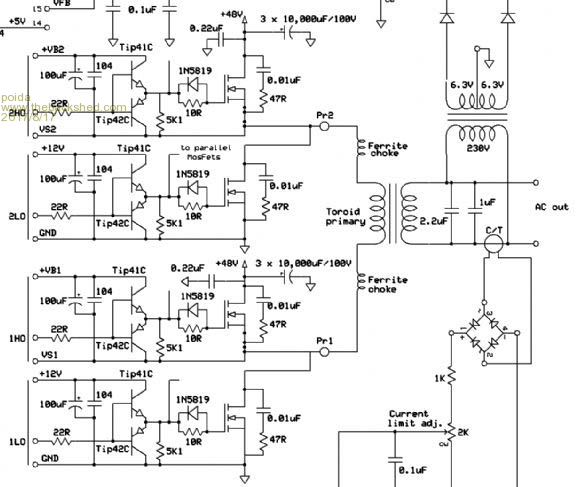 I see the circuit as having 4 switches, named 1LO, 1HO, 2LO and 2HO
When using the EG8010 or EGS002 parts, 1LO and 1HO drive the 50Hz output and 2LO, 2HO drive the 20Khz PWM output.

It's important for my understanding to choose a reference point for all measurements.
I choose DC ground.

IF you put a oscilloscope probe on Pr1 with the probe grounded to DC supply ground you will see
a 50Hz square wave - nearly all the signal will consist of 50Hz square wave, the low 1/2 cycle being close to ground volts and the high 1/2 cycle close to DC bus supply volts.

Put another probe on Pr2 (also this signal is relative to DC supply ground)
This will have a 20KHz square wave running with differing duty cycles depending on where in the 1/2 50Hz cycle you are looking.

(the high frequency PWM signal is a 20KHz square wave with positive duty cycle percentage times varying from sin(0) to sin(90 deg) then back to zero. The inverter power output is controlled by a factor that is multiplied to the sin().
Typically my inverter runs at 70% modulation with zero loads. The modulation factor starts at zero at the start of the 3 second soft-start
then it increases during the 3 seconds to some value that results in the desired AC voltage output as seen by the feedback network)

At steady state running, with the inverter producing it's expected AC output voltage you will see
again a signal at Pr2 that exists primarily at only two values, ground and DC supply.
With a DSO (digital storage oscilloscope) you can quite easily capture portions of the PWM generated for the gate drives.

The transformer primary winding sees the voltage difference between Pr1 and Pr2.
We can easily see what this difference looks like with the oscilloscope
(my DSO has a simulated low pass filter I can apply to a signal and I can perform math functions on 2 signals.)

See the following DSO captures
Yellow is the voltage at Pr1
Light Blue is that at Pr2 after passing through a low pass filter.
Purple is (Pr1 - Pr2) i.e. what the transformer gets.

First is where there is zero modulation of the SPWM, leaving the difference = nearly zero.
The primary winding sees differing absolute voltages, changing each 1/2 cycle of the 50 Hz but it sees
nearly zero difference in the two signals.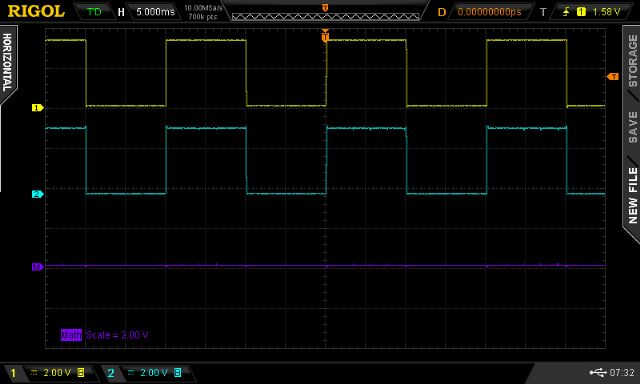 Next I modulate the SPWM to about 10% max, and we see a small sine wave appear on the purple trace.
Subsequent images show increasing modulation of the SPWM.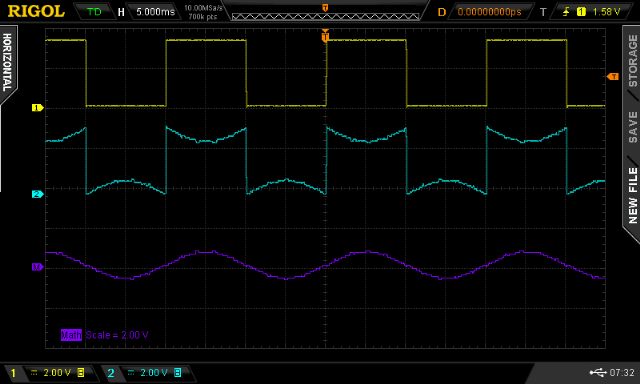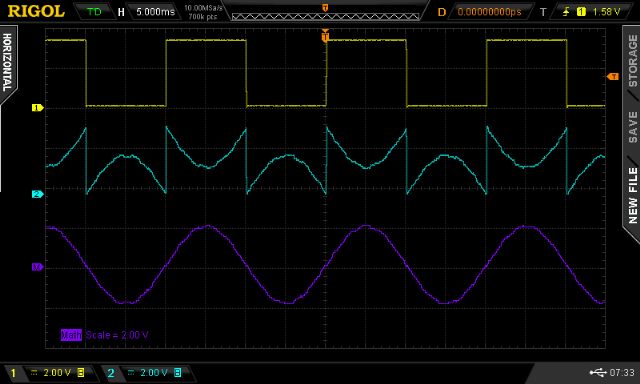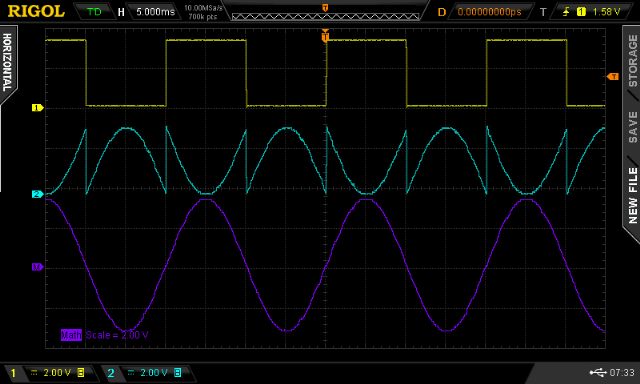 Notice the shape of the high frequency PWM signal (Pr2). See how within one of the 50Hz 1/2 cycles it appears as
a 1/2 of a sine wave? This makes sense since the primary winding sees
the result of (Pr1 - Pr2) which is a sine wave portion going from zero to negative DC bus and back to zero.

The other half of the cycle is a bit strange. Pr1 = Yellow and is at DC bus voltage.
The SPWM is in fact (1 - sin) and so Pr2 starts out at DC bus voltage, reducing down to zero and returning to DC bus.
The primary winding sees the difference of this which is (Pr1 - Pr2) and so thats the positive sine wave half we see in purple.

This is how we can apply an alternating current (going from +DCbus x modulation% to -DCbus x modulation %) to the primary winding.

This can easily be done by anyone with a reasonable oscilloscope and an Arduino
I used in this case an Arduino Due (I'm playing with dead-time concepts at the moment)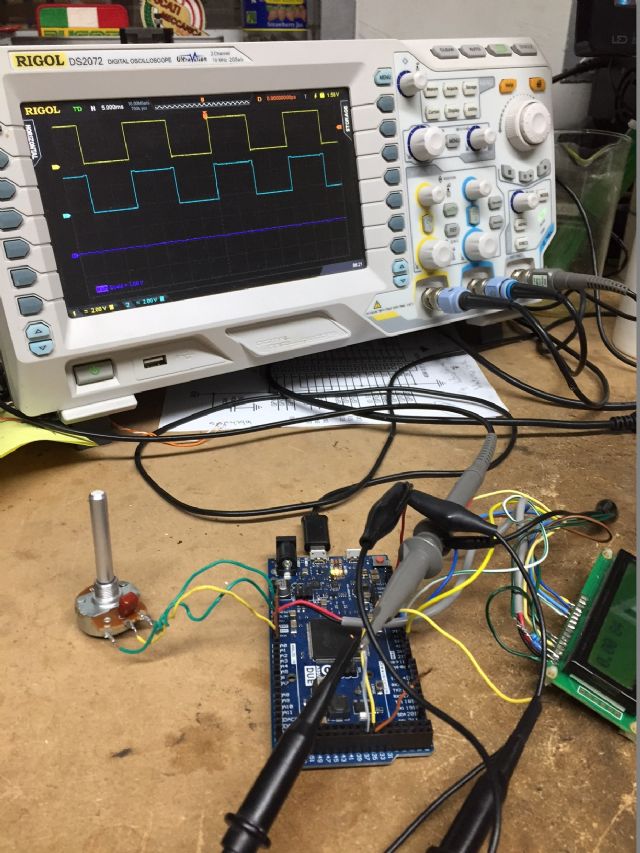 Here is the code. Attach a potentiometer to A0 to be able to control the modulation %
It includes my very good Bessel 4 pole low pass filter code, which is not used right now.




// include the library code
#include <LiquidCrystal.h>
// initialize the library with the numbers of the interface pins
LiquidCrystal lcd(12, 11, 5, 4, 3, 2);
uint32_t *rp;

const float bessel4[][11] = // Fc,gain,a0,a1,a2,a3
{
{0.0053200, 2635991.5606778641, -0.8537384202 , 3.5510024223 , -5.5404118329 , 3.8431417609 },
{0.0061180, 1524781.5028650849, -0.8337254066 , 3.4878631969 , -5.4739836959 , 3.8198354122 },
{0.0070358, 883513.1860838116, -0.8112892283 , 3.4165503092 , -5.3983852107 , 3.7931060203 },
{0.0080911, 512939.7368203878, -0.7862322979 , 3.3362255664 , -5.3124886713 , 3.7624642100 },
{0.0093048, 298461.1977263077, -0.7583710038 , 3.2460350374 , -5.2150728656 , 3.7273552237 },
{0.0107005, 174105.9270733614, -0.7275473263 , 3.1451347330 , -5.1048310546 , 3.6871517498 },
{0.0123056, 101858.4380555421, -0.6936434579 , 3.0327261291 , -4.9803864405 , 3.6411466885 },
{0.0141514, 59787.5833156785, -0.6565993513 , 2.9081027536 , -4.8403169120 , 3.5885458956 },
{0.0162741, 35224.8633726978, -0.6164331532 , 2.7707099615 , -4.6831925330 , 3.5284615001 },
{0.0187152, 20841.4645647156, -0.5732637347 , 2.6202185372 , -4.5076286708 , 3.4599061679 },
{0.0215225, 12390.4781106740, -0.5273341360 , 2.4566125746 , -4.3123589872 , 3.3817892345 }
};


const uint16_t si[201] = {
0, 129, 257, 386, 515, 643, 772, 900,
1029, 1157, 1285, 1414, 1542, 1670, 1798, 1926,
2053, 2181, 2309, 2436, 2563, 2690, 2817, 2944,
3070, 3196, 3322, 3448, 3574, 3700, 3825, 3950,
4075, 4199, 4323, 4447, 4571, 4694, 4818, 4940,
5063, 5185, 5307, 5429, 5550, 5671, 5791, 5912,
6031, 6151, 6270, 6389, 6507, 6625, 6742, 6859,
6976, 7092, 7208, 7323, 7438, 7553, 7667, 7780,
7893, 8006, 8118, 8229, 8340, 8451, 8561, 8670,
8779, 8887, 8995, 9102, 9209, 9315, 9421, 9526,
9630, 9734, 9837, 9940, 10042, 10143, 10244, 10344,
10444, 10542, 10641, 10738, 10835, 10931, 11027, 11121,
11216, 11309, 11402, 11494, 11585, 11676, 11766, 11855,
11943, 12031, 12118, 12204, 12290, 12375, 12458, 12542,
12624, 12706, 12787, 12867, 12946, 13024, 13102, 13179,
13255, 13330, 13405, 13478, 13551, 13623, 13694, 13764,
13833, 13902, 13970, 14036, 14102, 14167, 14232, 14295,
14357, 14419, 14480, 14539, 14598, 14656, 14713, 14769,
14825, 14879, 14932, 14985, 15036, 15087, 15137, 15186,
15233, 15280, 15326, 15371, 15415, 15458, 15501, 15542,
15582, 15621, 15660, 15697, 15733, 15769, 15803, 15837,
15869, 15901, 15931, 15961, 15989, 16017, 16044, 16069,
16094, 16117, 16140, 16162, 16182, 16202, 16221, 16238,
16255, 16270, 16285, 16299, 16311, 16323, 16333, 16343,
16352, 16359, 16366, 16371, 16376, 16379, 16382, 16383,
16384};

#define NPWM 200
#define PPWM (840000 / (NPWM))

int spa_count,spb[NPWM*2+2],*sp,uf,psc;
int maxpwm,v;
float a0,a1,a2,b1,b2,z1,z2;
int u2,u3;
long pt;

float xv[10],yv[10];
int fc_b4;
float gain,a3;

void setup()
{
uint32_t *t;
int i;
pwm_mod(PPWM);
spa_count=0;
sp = spb;
uf=0;
pwmc_setup();
REG_PWM_CDTY1 = 26250;
ADC->ADC_MR |= 0x80; //set free running mode on ADC
ADC->ADC_CHER = 0xc0+1; //enable ADC on pin A0,A1 and a7
z1=z2=0.0;

/*
volatile unsigned int* SysTickControl = (unsigned int*) 0xE000E010;
*SysTickControl = 0; // disable arduino timer, used by millis() etc.
*/
lcd.begin(16, 2);
// preload Bessel filter coeffs, indexing into above table of values of varying F(cut-off)
i = 10;
gain = bessel4[1];
a0 = bessel4[2];
a1 = bessel4[3];
a2 = bessel4[4];
a3 = bessel4[5];
}


void pwm_mod(long v)
{
int i;
for(i=0; i < NPWM/2; i++)
spb= spb[NPWM-i] = (si[(i * 200) /(NPWM/2)] * v) >> 14;
spb[NPWM/2] = spb[NPWM/2 + 1] = spb[NPWM/2 - 1];
for(i=0; i < NPWM; i++)
spb[i+NPWM]=PPWM - spb;

}

void loop()
{
// work out error, increase or decrease spb[] accordingly
// read analog input, scale and get delta from setpoint, use a bit of PID to drive correction factor
// impliment the soft start, disable/enable output (only during 50Hz zero crossing)
// likely that this code will get interrupted by one or both of the PWM and so we have a situation where
// this code is writing to data that the interrupt routine will be reading.
//
//REG_PIOD_ODSR = 2; REG_PIOD_ODSR = 0; // toggle pin 25
//
//
float r,s,t,f;
int j,k, u;

if(uf==0)
return;
uf=0;
// sample A0, using direct register access
// NO NEED TO CHECK IF ADC result is ready, just read it.
// while((ADC->ADC_ISR & 0x80)==0);
j = ADC->ADC_CDR[7]; // direct ADC conversion read A0
u = ADC->ADC_CDR[6]; // and A1, not used here
s = (float)j / 4087.0;


/*
// 4 pole Bessel LP filter PWM input via noisy potentiometer on A0 line
xv[0] = xv[1]; xv[1] = xv[2]; xv[2] = xv[3]; xv[3] = xv[4];
xv[4] = s / gain;
yv[0] = yv[1]; yv[1] = yv[2]; yv[2] = yv[3]; yv[3] = yv[4];
yv[4] = (xv[0] + xv[4]) + 4 * (xv[1] + xv[3]) + 6 * xv[2]
+ ( a0 * yv[0]) + ( a1 * yv[1])
+ ( a2 * yv[2]) + ( a3 * yv[3]);
s = yv[4];
*/

if (s > 0.999) s = 0.999;
if (s < 0.001) s = 0.001;

v = (int)(s * PPWM);
REG_PIOD_ODSR = 2;
pwm_mod(v);
REG_PIOD_ODSR = 0;

u = 84; // dead time, in uC clocks. arduino due has a 84MHz clock
REG_PWM_DTUPD0 = (u << 16)+u; //can change this on the fly if wanted.

lcd.setCursor(0,0);
lcd.print(s);
lcd.print(" ");
lcd.print(u);
lcd.print(" ");
lcd.print(u3);
lcd.print(" ");
}

void pwmc_setup()
{
//Configure PWM channels 0,1
REG_PIOC_PDR = 0x3FC; //B1111111100, PIO Disable Register
REG_PIOC_ABSR = REG_PIOC_ABSR | 0x3FCu; //B1111111100, Peripheral AB Select Register

pmc_enable_periph_clk(ID_PWM);
REG_PWM_ENA = REG_PWM_SR | 0x000003; //PWM Enable Register | PWM Status Register (activate channels 0,1), was B11111 ie all 5 low

REG_PWM_CMR0 = 0x10000; //Channe0 Mode Register: Dead Time Enable DTE=1, clock divider = 0, use Mclk
REG_PWM_CMR1 = 0x10005; //Channe1 Mode Register: Dead Time Enable DTE=1, clock divider = 5, use Mclk/512
REG_PWM_DT0 = 0x2a002a; //Channe0 Dead Time Register
REG_PWM_DT1 = 0x020002; //Channe1 Dead Time Register
REG_PWM_CPRD0 = PPWM; //Channe0 Period Register 20 kHz
REG_PWM_CPRD1 = 52500; //Channe1 Period Register 50 Hz

NVIC_DisableIRQ(PWM_IRQn); // set up interrupt
NVIC_ClearPendingIRQ(PWM_IRQn);
NVIC_SetPriority(PWM_IRQn, 0);
NVIC_EnableIRQ((IRQn_Type)36); //NVIC_EnableIRQ(PWM_IRQn);
PWM_INTERFACE->PWM_IER1 = 0x0003; //enable interrupt on channel 0
PWM_INTERFACE->PWM_IDR1 = 0x00FF00fc; //enable interrupt on channel 0

// enable 16 pins in port D
REG_PIOD_PER = 0x00ff;
REG_PIOD_OER = 0x00ff;
REG_PIOD_OWER = 0xFFFF;
}



void PWM_Handler(void) // PWM interrupt handler
{
uint32_t ir1;
ir1 = PWM_INTERFACE->PWM_ISR1; // clear interrupt flag
if ((ir1 & 2) == 2) { // runs after each cycle of 50Hz // spa_count=0;
sp = spb + 1;
uf=1;
pt=0;
psc=0;
}
if ((ir1 & 1) == 1) { // runs after each pwm cycle, 20 kHz
REG_PWM_CDTYUPD0 = *sp;
psc++;
sp++;
}
}




Here is Arduino Uno code for the same thing




#define cbi(sfr, bit) (_SFR_BYTE(sfr) &= ~_BV(bit))
#define sbi(sfr, bit) (_SFR_BYTE(sfr) |= _BV(bit))

#define NPWM 200
#define PPWM (160000 / NPWM)

const uint16_t PROGMEM si[201] = {
0, 129, 257, 386, 515, 643, 772, 900,
1029, 1157, 1285, 1414, 1542, 1670, 1798, 1926,
2053, 2181, 2309, 2436, 2563, 2690, 2817, 2944,
3070, 3196, 3322, 3448, 3574, 3700, 3825, 3950,
4075, 4199, 4323, 4447, 4571, 4694, 4818, 4940,
5063, 5185, 5307, 5429, 5550, 5671, 5791, 5912,
6031, 6151, 6270, 6389, 6507, 6625, 6742, 6859,
6976, 7092, 7208, 7323, 7438, 7553, 7667, 7780,
7893, 8006, 8118, 8229, 8340, 8451, 8561, 8670,
8779, 8887, 8995, 9102, 9209, 9315, 9421, 9526,
9630, 9734, 9837, 9940, 10042, 10143, 10244, 10344,
10444, 10542, 10641, 10738, 10835, 10931, 11027, 11121,
11216, 11309, 11402, 11494, 11585, 11676, 11766, 11855,
11943, 12031, 12118, 12204, 12290, 12375, 12458, 12542,
12624, 12706, 12787, 12867, 12946, 13024, 13102, 13179,
13255, 13330, 13405, 13478, 13551, 13623, 13694, 13764,
13833, 13902, 13970, 14036, 14102, 14167, 14232, 14295,
14357, 14419, 14480, 14539, 14598, 14656, 14713, 14769,
14825, 14879, 14932, 14985, 15036, 15087, 15137, 15186,
15233, 15280, 15326, 15371, 15415, 15458, 15501, 15542,
15582, 15621, 15660, 15697, 15733, 15769, 15803, 15837,
15869, 15901, 15931, 15961, 15989, 16017, 16044, 16069,
16094, 16117, 16140, 16162, 16182, 16202, 16221, 16238,
16255, 16270, 16285, 16299, 16311, 16323, 16333, 16343,
16352, 16359, 16366, 16371, 16376, 16379, 16382, 16383,
16384};

uint8_t f50;
uint16_t pcount,uf;
uint16_t l[NPWM+1];
float pwr;

void setup()
{
pwm_mod(0);
noInterrupts();
TCCR2A = _BV(COM2A1) | _BV(COM2B1) ;
TCCR2B = _BV(CS22)| _BV(CS21) | _BV(CS20);
TIMSK2 |= (1 << TOIE2);
pinMode(9, OUTPUT);
TCCR1A = _BV(COM1A1) | _BV(COM1B0) | _BV(COM1B1) | _BV(WGM11);
TCCR1B = _BV(WGM13) | _BV(WGM12) | _BV(CS10);
OCR1A = 10;
ICR1 = PPWM;
TIMSK1 |= (1 << TOIE1);
f50 = 0;
pcount = 0;
uf=0;
interrupts(); // enable all interrupts
TIMSK0 = 0; // except arduino clock
DDRD = B11111111;
pwr=0.0;
}

ISR(TIMER2_OVF_vect)
{// 100 Hz
TCNT2=100;
pcount=0;
f50 = !f50;
TCNT1=0;
uf=1;
}

ISR(TIMER1_OVF_vect)
{//20Khz SPWM
if(pcount == 1)
{
if (f50 == 1)
cbi(PORTD,7);
else
sbi(PORTD,7);
}
if (f50 == 1)
OCR1A = l[pcount];
else
OCR1A = PPWM - l[pcount];
pcount++;
}

void pwm_mod(long v)
{
long i;
long a,c,b;
for(i=0; i < NPWM/2; i++)
{
b = (i * 200)/(NPWM/2);
a = pgm_read_word(&si);
c = (a * v) >> 14;
l= l[NPWM-i] = c;
}
l[NPWM/2 ] = l[NPWM/2 + 1] = l[NPWM/2 -1];
}

void loop()
{
float s;
long v;
float tc=0.1;
if(uf == 1)
{
uf=0;
sbi(PORTD,6);
s = (float)PPWM * (float)analogRead(2)/1024.0;
pwr = (1.0-tc)*pwr + tc * s;
v = (int)pwr;
pwm_mod(v);
cbi(PORTD,6);
}
}






---
wronger than a phone book full of wrong phone numbers
poida

Guru



Joined: 02/02/2017
Location: AustraliaPosts: 1364
| | | | |
| --- | --- | --- | --- |
| Posted: 04:40pm 11 Sep 2017 | Copy link to clipboard | Print this post | |

2017-09-12_024241_due_pll_mains_sync.zip Part 13: Phase locked loop control with Arduino Uno and Due

I've enjoyed quite a few pleasant hours devoted to exploring PLL control as implemented on
Arduino microcontrollers. As at the time of writing I have very well performing code that locks on
to the mains 50Hz and remains locked, tracking without any issues for days at a time.
This performance is well in excess of the design goal I set - get some code that will lock to mains 50Hz to allow low stress changeover
from street power to inverter power.

My solar system employs a Latronics ATS40 change over switch which is a good product, doing what it is supposed to do.
It takes two AC supplies, "primary" and secondary" and puts one or the other supply out the output terminals, depending on if
the primary is OK or not. IF the primary is OK, it sends that out to the output. IF the primary is not usable, it switches over to send the secondary out the output.
I have the inverter hooked up as "primary" and street power connected as "secondary". When the inverter restarts after gettting enough battery charge from the following day,
the changeover from street to inverter occurs.
It's all worked fine for 2 years.
And then the Victron 3000VA inverter died. I then used a home made inverter using an inverter board from aliexpress and this lasted 2 weeks.
I think there are circumstances during changeover that create large stresses on the inverter. Don't you?
Should the street AC phase be 180deg different to the inverter phase, there can be large effects generated by the home appliances
and the inverter toroid when the changeover event occurs.
I now want the changeover to happen with inverter phase being synchronous to street AC supply.
This means I need PLL control of the inverter output, to obtain sync with street.
So that's the why.

A bit of PLL theory

We have a sync signal, which being the signal we want to synchronise our system to.
We have a slave signal, which is taken from our system, to be used when comparing phase and frequency.
Luckily in my case both signals are fairly clean sine waves.
In testing I have seen it sync to square waves OK too. But to get decent results you must remove the high frequencies of
the square wave BEFORE you sample it. You will have poor results if you let frequencies greater than 1/2 sample rate into the PLL control loop.

Phase lock loops (PLL) are a filter. Nothing more or less.
The phase signal is obtained in my case by multiplying the sync signal with the slave signal and putting the result
through a low pass filter. The sync signal is near as can be a 50 Hz sine wave with not very much other frequencies.
The slave signal is a sine wave of the slave system's output and also is nearly all one frequency.
Think 95% fundamental frequency with 5% distortion for both.

Multiplying two sine waves of f1 Hz and f2 Hz frequencies gives you the result of (f1-f2)Hz and (f1+f2)Hz
In the case of 50Hz and, say, 51Hz we would get after multiplying (50-51) Hz and (50+51) Hz or
1 Hz and 101 Hz. Just forget about the negative result for a moment and call it positive.
Should you pass this result through a low pass filter, designed to permit the 1 Hz product to pass but prevent nearly all of
the 101 Hz product, you will have a clean signal that represents the difference in PHASE of the two signals.

This result is then used in a control loop to change the slave output frequency so as to minimise the phase difference.
It's honestly rather similar to a PD control loop.

This seems simple enough, how to do it with a microcontroller...
We will feel the full force of the consequences of digital signal sampling from now on.
How I did it was as follows:
1 - sample both the sync signal and the slave signal at a certain rate. In this case it's 200 Hz.
2 - scale and offset the samples to be bipolar, eg the mid point of the sine wave samples will now be zero.
3 - multiply the two samples, and scale result by the loop gain.
4 - put this number into a decent low pass filter, to remove the high frequency product of the multiplication but let the low frequency parts through.
5 - Now use the filtered result and use a portion of it to correct the slave's output frequency
6 - We also need to correct the slave's output freq with a bit of the frequency error.
7 - go to 1

This is easy to implement in code. I will attach working code for both Arduino Uno and Due.
Particular details of the code:

step 1,2
Samples of the sync signal from the ADC range from 0 to 1024 (Uno) and 0 - 4096 (Due)
These need to be level shifted so the signal varies from (-1/2 ADC range) to (+1/2 ADC range) for the phase detection arithmetic
to work. This is easy to do and I code max and min tracking variables to give me the best level shift possible.

step 3,4
Time to do some floating point and even the Uno is fast enough!
The LP filter has to be given input with frequencies less than 1/2 the sample rate for it to work properly.
The sample rate is 200Hz so if we limit our system to have sync and slave frequencies of about 50Hz +/- 1 Hz we should be OK.
The street supply 50Hz is quite well regulated and only varies about +/- 0.12 Hz over the long term of a day or so.
This means the phase detector's LP filtered output will be a signal with frequencies something around DC to +/- 0.12 Hz.
We need to configure the LP filter to have near 100% removal of the 100Hz tone of the phase detector and I use my trusty
2 pole Butterworth biquad filter to achive this. (See previous posts of mine in this thread. I used the filter in my arduino uno inverter
controller to clean up the AC output feedback)
In my case I choose a filter cutoff of 0.02 with 200 Hz sample rate, this means the cutoff (-3db) is at 0.02 x 200 Hz or 4Hz
This is great since it lets the 0.0 to 0.12 Hz signal through without any loss but the 100Hz signal will be cut to less than -80db. (about 1/10,000th)

step 5
maintain a running total of the correction, which starts out at zero but can be any value positive or negative.
call it "plllint" for phase lock loop loop integral...
We need a measure of the frequency difference. Funnily enough, we can get the frequency difference between the sync and slave by looking at the
change in phase error with respect to time. So if you keep a copy of the phase error from last time in the pll code run, you will have the
frequency_difference = (current_phase_error - past_phase_error)/some_time_constant. And after this, let past_phase_error = current_phase_error, ready for the next
time through the loop.

step 6
I adjust plllint by adding a small part of the phase error and a small part of the frequency difference to it.
Then convert this error integral to integer, ready for altering the slave frequency generator clock rate.

That's about it. The Uno runs fine, doing the pll calculations in un-interruped time with ease. The Due is about 20x faster and has more complicated
programming for the timer interrupts.

How to obtain a suitable sample of the mains AC?
I use a 9V AC plug pack, AC couple it with a 1000uF 25V cap, put a diode across the output. On the cathode will be the positive waveform, the anode will be zero or ground.
I divide the voltage using a potentiometer. This works fine for me. I feed this into the ADC input. Search for "DC restorer"

How to obtain a suitable sample of the slave?
Really easy, since the slave output is a sine wave, read from a lookup table via a circular counter, just look up the current sine table value
that was last sent to the DAC.
One point to note is a PLL syncronises the slave to the sync with a 90 deg offset. So to get your slave in sync with zero offset,
you instead offset the slave value that is fed into the PLL loop by -90 deg.

It's all clear in the code.

For the application of getting mains sync with the EGS002, I would need to use the output of the PLL to control a voltage controlled oscillator which would be used to drive the EG8010 instead of the onboard crystal. And we need to get a 270 deg phase shift of the mains too.
But I plan to use my own systems in the inverters from now on.





#define cbi(sfr, bit) (_SFR_BYTE(sfr) &= ~_BV(bit))
#define sbi(sfr, bit) (_SFR_BYTE(sfr) |= _BV(bit))

#include <SPI.h>

const uint16_t PROGMEM si[201] = {
2047,2111,2175,2239,2303,2367,2430,2493,2556,2618,2679,2740,2800,2859,2918,2976,
3033,3089,3143,3197,3250,3301,3351,3400,3448,3494,3539,3582,3624,3664,3703,3740,
3775,3808,3840,3870,3899,3925,3950,3972,3993,4012,4029,4044,4057,4068,4077,4084,
4089,4092,4094,4092,4089,4084,4077,4068,4057,4044,4029,4012,3993,3972,3950,3925,
3899,3870,3840,3808,3775,3740,3703,3664,3624,3582,3539,3494,3448,3400,3351,3301,
3250,3197,3143,3089,3033,2976,2918,2859,2800,2740,2679,2618,2556,2493,2430,2367,
2303,2239,2175,2111,2047,1982,1918,1854,1790,1726,1663,1600,1537,1475,1414,1353,
1293,1234,1175,1117,1060,1004,950,896,843,792,742,693,645,599,554,511,
469,429,390,353,318,285,253,223,194,168,143,121,100,81,64,49,
36,25,16,9,4,1,0,1,4,9,16,25,36,49,64,81,
100,121,143,168,194,223,253,285,318,353,390,429,469,511,554,599,
645,693,742,792,843,896,950,1004,1060,1117,1175,1234,1293,1353,1414,1475,
1537,1600,1663,1726,1790,1854,1918,1982}; // sine wave lookup table

int sc;
float loopgain,plllc,pllint,pllout,oldplllc;
int pint,jmax,jmin,kmax,kmin;
int np,cc;
float aa[10],d1[10],d2[10],w0[10],w1[10],w2[10];
long lm;

void t1() // this is used to generate the slave output sine wave
{
pinMode(9, OUTPUT);
TCCR1A = _BV(COM1A1) | _BV(COM1B0) | _BV(COM1B1) | _BV(WGM11);
TCCR1B = _BV(WGM13) | _BV(WGM12) | _BV(CS10);
OCR1A = 10;
ICR1 = 1600; // 10 Khz, 200 step 50Hz, using a 2 x pi wave table
TIMSK1 |= (1 << TOIE1);
}


ISR(TIMER1_OVF_vect)
{
int a;
sc++;
if (sc > 199)
sc = 0;
a = pgm_read_word(&si[sc]);
write_DAC(a);
ICR1 = 1600 + pint; // important!! update slave clock with PLL correction
}

void write_DAC(int i)
{
// write to MCP4912 2 channel DAC. This is the SLAVE signal output
// 0 <= i <= 4096. the DAC expects 12 bit data.
uint8_t b,c;
cbi(PORTD,2); // cs low, enables tx into DAC serial port
b = 0x30 + (i >> 8); // send high 8 bits of channel 0
SPI.transfer(b);
c = (i & 0xff); // low 8 bits
SPI.transfer(c);
cbi(PORTD,3); // latch low, move data to DAC r2r ladder. DAC outputs now reflect two input 16 bit words.
sbi(PORTD,3); // latch high
sbi(PORTD,2); //cs high
}


void setup()
{
sc = 0;
SPI.setClockDivider(SPI_CLOCK_DIV2);
SPI.begin();
pinMode(2,OUTPUT);
pinMode(3,OUTPUT);
t1();
sbi(ADCSRA,ADPS2) ; // faster ADC conversions please
cbi(ADCSRA,ADPS1) ;
cbi(ADCSRA,ADPS0) ;

Serial.begin(115200);
Serial.println("");
Serial.println("");

np = 2;
loopgain = 0.001;
get_biquad(0.02);
lm = millis();
}

void loop()
{
while ( (millis() - lm) < 5) // 200Hz
;
lm = millis();
do_pll();
}


void do_pll()
{
float a,b,fj,fk,s;
int i,j,k;
// get 90 deg early sample of output sine. sine table is 200 samples per 2 pi cycle, so 150 samples = 1/4 wave early
i = sc + 149; // i = circular buffer counter + 1/4 full wave
if (i > 199) i = i - 199; // it will overflow, so wrap around if needed
j = pgm_read_word(&si) - 2048; // both snyc and slave are now assumed to be full scale -2048 <= input < 2048
// get sync signal
k = 4 * analogRead(0) - 2048; // i.e. bipolar
// phase detection and loop gain
plllc = (float)j * (float)k * loopgain;
// Butterworth biquad LP filter the phase. This filters out the high freq rubbish we don't want to feedback into the loop
s = plllc;
for(i=0; i<np; ++i)
{
w0 = d1*w1 + d2*w2 + s;
s = aa*(w0 + 2.0*w1 + w2);
w2 = w1;
w1 = w0;
}
plllc = s;
// concoct a special feedback value, to be used to adjust the slave sine wave frequency.
// maintain a running total of adjustments, each time adding a small fraction of the phase error
// and a small part of the frequency error. Frequency = the change of phase over time.
pllint += plllc * 0.0001 + (plllc - oldplllc)*0.01;
// convert to int for fast wave table clock updates
pint = (int)pllint;
// get something to plot for the humans to see so they think they are controlling this process.
String withScale = "-21 ";
withScale += pint;
withScale += " 21"; // use "serial plotter" to watch it sync up
Serial.println(withScale); // and follow mains variations
// need this for frequency calcs. (new phase error - old phase error)/time increment
oldplllc = plllc;
}

void get_biquad(float fc)
{
float s,r;
int i;
float a = tan(M_PI*fc);
float a2 = a*a;
for(i=0; i<np; ++i)
{
r = sin(3.141592926 * (2.0*i+1.0)/(4.0*np));
s = a2 + 2.0*a*r + 1.0;
aa = a2/s;
d1 = 2.0*(1-a2)/s;
d2 = -(a2 - 2.0*a*r + 1.0)/s;
}
}





Edited by poida 2017-09-13
---
wronger than a phone book full of wrong phone numbers