| | |
| --- | --- |
| Watts2C Solar Installations | |
Keeping it Simple

The KISS principle is often bandied about, but very rarely put into practice. Not so at Watts2C, a Sunshine Coast business that design and manufacture a range of diesel DC generators and Solar Hybrid Systems.

By Martin Hygemann

Posted: 2nd September 2010
Owner and development engineer, Don Pulver, explains that his background has reinforced the need to produce products that are simple for the end user to operate and service.
"When designing generators for the Australian Military, it became evident that there were three main criteria to fulfill – durability, reliability & serviceability. And all of this under the harshest of conditions, whether it be tropical jungles or the barren deserts of Afghanistan.
We realised that keeping things simple would best provide the Aussie diggers with a rugged generator that they could rely upon, no matter what the environment and elements threw at them."
The quality and reliability of Don's design resulted in him receiving recognition from the Australian military for his "most significant contribution to the Army generator projects." Nearly fifteen years down the track the gen sets are still in use.
Don has maintained the philosophy used in supplying the military with quality products in the design and manufacture of POWERMAKER DC generators and solar hybrid systems.
"When we started developing the POWERMAKER range, it was with the standalone power market in mind. Things like motor homes, remote residences that can't or don't want to hook up to grid power, the mining industry, telco's and the like. We took the experience and principles we gained through designing independent power solutions for military applications and applied them to our new range of generators."
With their robust design, reliability and ease of use, POWERMAKER DC generators quickly developed a loyal following. As word spread, Don started receiving requests for generators suitable for marine use, which lead to the POWERMAKER Cruise range. Compact and quiet, they are designed especially for the marine environment.
Don had also turned his attention to designing a hybrid power system that was simple and more efficient than others on the market. Using DC power as the starting point he has developed a range of solar hybrid systems that are lighter, smaller, last longer and capable of supplying clean power for AC & DC power needs.
The basic concept revolves around using solar panels to produce the bulk of the energy needs. The solar panels are backed up by a diesel DC generator which kicks in automatically when the battery bank runs low on power or there is a heavy demand on the batteries.
The range of solar hybrid systems start at 4.7kWh and go through to 9.4kWh. Within each of the models there are a number of configurations – providing a choice of battery bank with life spans ranging from 3.8 to 16 years. Watts2C will also tailor the systems to meet clients needs.
"We have designed and built smaller hybrid systems for communication towers as well as larger systems for industrial type applications" says Don.
"At the moment we are selling the standard units complete with the housing cage – delivered to site ready to run. Pretty much a plug and play system. However, we are looking at selling individual components so that customers can build their own system based around our technology. We are happy to meet the market's requirements, and being both the designers and manufacturers gives us the freedom to do so."
So Why DC?
Don has always seen DC as the way of the future. The reasons include simplicity, longevity and most importantly, efficiency.
A solar system produces DC energy. So it makes sense for the backup to be DC based as well. The bonus is that DC generators are as much as 15% more efficient at producing power than AC generators. The use of variable speed technology provides up to 40% savings in fuel and extends the engines life. Coupling the DC system with a pure sine wave inverter provides clean 240V power that is suitable for all modern appliances – from laptops to washing machines.
High demand starting (such as an air conditioning unit) is no problem for a DC power system - power is drawn from the battery bank, so no stress is placed on the generator. This means a smaller, quieter generator can be used.
Where to from here?
Until such time as we start generating nuclear energy in Australia (?), Don believes there are smarter and more efficient ways to produce energy. While grid energy is still relatively inexpensive, many Australians live in remote areas where grid connection is close to impossible, or exorbitantly priced. While the Watts2C Solar Hybrid System is one solution, Don hasn't stopped experimenting yet.
"We put a lot of time and effort into R&D. We know we have a high quality and extremely reliable product. But things can always be improved. The whole philosophy behind Watts2C is to develop the most efficient and environmentally friendly products possible - using the latest in technology."
The interest in alternative energy supplies is growing exponentially – pushed in part by the solar rebate schemes. However, Watts2C are looking at the long term, providing real solutions that are both people and environmentally friendly.
Photos below show a A 9.4kWh Solar Hybrid System installed at Booubyjan Queensland Australia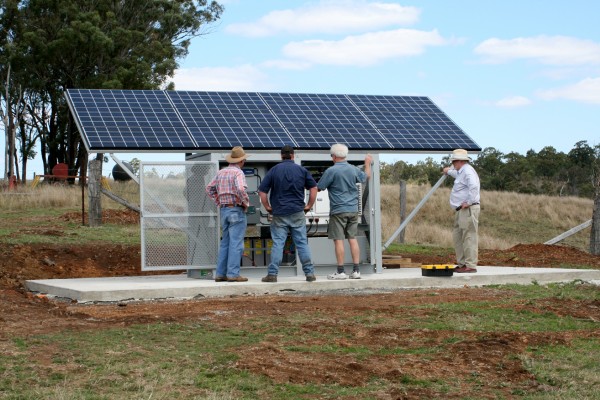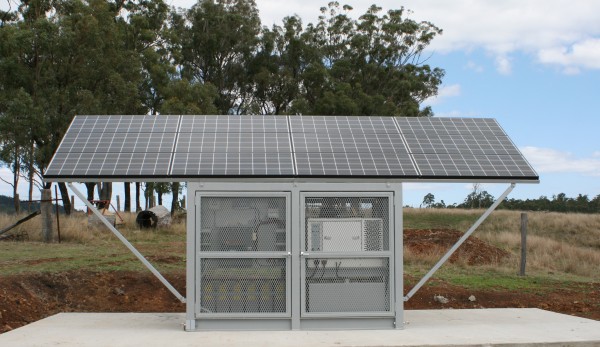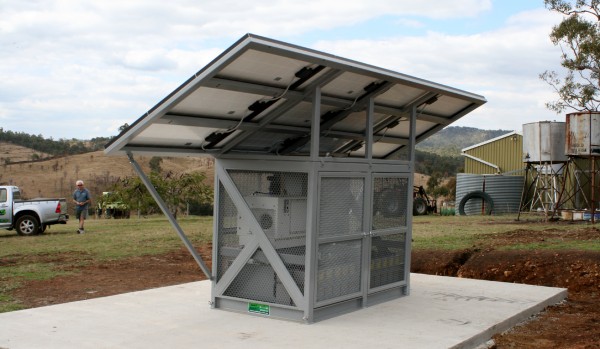 38 Technology Drive
Warana Qld Australia 4575

Phone: 07 5437 8333, 1800 678 161
Fax: 07 5437 8222