Now I had a few emails from David with the results of his test. In his words...
"Put them on my Chinese hub and rebalanced. They have been up for 2 hours now and I can already see some difference.
1. slightly negative. They take more wind to start up.
2. up to 200 rpm (visual again) there virtually no sound…….a definite improvement
3. from 200 to 600 it is also quieter probably about 20% in that range
4. however there is still a high pitched whistle that I can hear through my office window at 400-600 rpm (probably 45 metres)
5. this whistle could also be from the pm motor its self……….Did you get any whistle on your F&P?
6. I also believe that mill performs better at the higher speeds but with out a logger its early days "

then...
"I will just ramble on and list it as it comes into my head. Observations to date:
Your blades have been up 6 days now. Noise levels are a little high, at higher revs the whistle gets higher pitched and can be heard many many metres away. Still some of the whine is the turbine as I don't get it on the F & P with Chinese blades. The reshaping definitely requires a much higher starting speed. However the start up speed here is still acceptable for me. We get wind virtually every day from 10 am till 6 pm and quite gusty. With the original standard Chinese blades and the Chinese controller I have seen the amps stay between 4-8 and peak burst up to 18-20 amps
Now for the good news:
After about 10 in the morning the output with your blades shows 6-12 amp and quite often bursts up to 24 and I have even seen the amps go of the scale at 30 amps………The high end improvement is dramatic!!!!!!!!!!!!! (if only we could get the noise down). This makes my 200w mill a great little beast."
So it looks like the modification to the Chinese blades gives a big increase in power, at the cost of a later startup speed. That just means if you have enough wind, the modification will turn your cheap 200 watt windmill into a 350watt plus windmill.
But there is still the big problem of noise.
Then I stumbled across a story on the Fieldlines windmill forums. In this message posting here, this guy had a set of blades very similar to the Chinese blades, but these were on a Bergey windmill and had a ridge on the back which he sanded off. They then made lots of noise. So he figured the ridge must have been there for a reason and he made his own ridge with a length of fine wire and some sticky tape. Apparently it made the blades dead quiet! So I send David another email asking him to try the same and see if it makes a difference. This is his reply...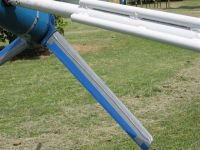 "... all that's left is a slight whisper, only audible directly under the mill……..now virtually silent even at 300-400 plus rpm. Bit rough and crude all I had is 2.5 weed eater nylon and cheap duct tape."
So it worked. By adding this little spoiler to the back of the blades the whistle noise was eliminated, and David also says he has noticed no change in performance, so no power is lost. It looks like the guys at Bergey windmills add this spoiler to make their blades quiet, but the Chinese cheap copy of the Bergey windmill doesn't include this modification.
David sent back the blades and hub, I now had to work out how to add this ridge to the blades as a permanent modification
What we need to add is a ridge at the top of the airfoil profile.